Time is running out, our Biamp 10% OFF sale ends soon!
CONFERENCING SOLUTIONS FOR EVERY SPACE
Biamp conference room solutions deliver truly extraordinary communication with unparalleled ease of management. Engineered to optimize productivity, our products provide seamless audiovisual experiences for meeting spaces of all sizes, including face to face and distance audio and video meetings.
Biamp offers a user-friendly option specifically designed for smaller collaborative spaces. Devio's Auto Setup feature quickly validates device connections, adjusts sound levels, and allows instant access to peripherals within the space, allowing employees to immediately get down to business when inspiration strikes.
Small meeting rooms are where your teams get the real work done. Biamp's solutions create flexible spaces for your small teams to work productively and communicate clearly, enabling colleagues to stop worrying about the room's technology when it's nose-to-the-grindstone time
As meetings grow in size and importance, keeping participants focused on the task at hand becomes increasingly critical. Parlé microphones ensure every voice is heard clearly thanks to their unique ability to track participants throughout the room.
Audio quality shouldn't be comprised in your most important spaces. Tesira solutions handle acoustic challenges with ease and can be scaled up in a cost-effective manner, providing a facility's largest rooms with the same clarity as its smallest. Additionally, accessories like the EX-UBT offer the flexibility needed to handle big rooms and even bigger ideas
SOLUTIONS FOR UNIFIED COMMUNICATIONS
Biamp meeting room solutions are fully compatible with the most popular unified communications platforms and hardware

Have Meeting Room Design Questions, Contact Us
COMPLETE MEETING ROOM SOLUTIONS NOW AVAILABLE
Biamp offers complete, turnkey AV solutions that are compatible with any unified communications platform.
Our patented technologies overcome the obstacles that traditionally prevent truly great conferencing, ensuring your meetings are productive and enjoyable

---
Enjoy streamlined
results and avoid
excessive cabling

---
Manages peak audio
signals when
meetings become animated

ACOUSTIC ECHO




CANCELLATION
---
AEC minimizes room
echo to improve clarity
for far end participants

---
Intelligently mixes
and tracks voices
around the room
WHAT IS BEAMTRACKING?
Beamtracking is Biamp's patented technology that allows our intelligent microphones to point dynamic beams exactly where they are needed as talkers in a space speak and move around. The result is extraordinary intelligibility and clear communication.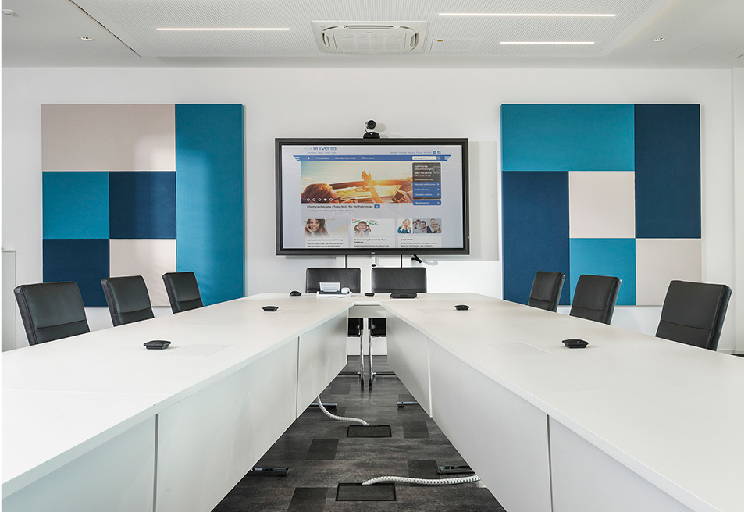 UniVersa Insurance Upgrades its Headquarters for Modern Meeting Experiences
"The Tesira platform is an excellent choice for supporting the UniVersa Insurance leadership team's technological needs now and well into the future."
– Rüdiger Krug
Managing Director
Franken Lehrmittel Medientechnik
Whether you use Microsoft Teams, Zoom Rooms, Google Meet, Cisco Webex, or any platform, Biamp offers comprehensive UC audio bundles tailored to the needs of medium and large-sized meeting rooms, ensuring clear communication for every attendee.