New Blackmagic URSA Broadcast G2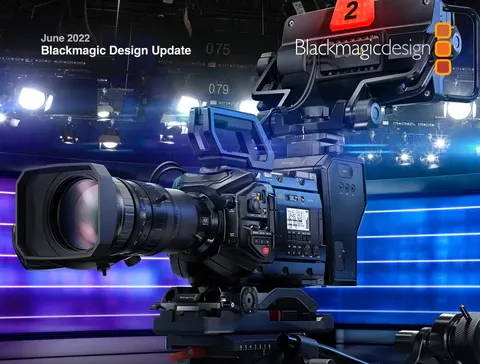 Next generation camera with 6K digital film sensor, dual gain ISO, H.265, Blackmagic RAW and more 
The new Blackmagic URSA Broadcast G2 is an incredibly powerful camera designed for both traditional and online broadcasters. The 3 cameras in 1 design allows it to work as a 4K production camera, a 4K studio camera or a 6K digital film camera! It's a perfect solution for broadcasters because it uses the lenses and batteries you already own! No other broadcast camera is so flexible!
Get Digital Film Quality for Broadcast 
The large 6K sensor combined with Blackmagic generation 5 color science gives you the same imaging technology used in digital film cameras. The 6K sensor features a resolution of 6144 x 3456 so it's flexible enough for broadcast and digital film work. When using B4 lenses, you get a 4K window of the sensor for Ultra HD broadcast use.
Exceptional Low Light Performance 
The new URSA Broadcast features incredible low light performance so you can shoot using ambient light or even under moonlight! The Blackmagic URSA Broadcast G2 features gain from -12dB (100 ISO) up to +36dB (25,600 ISO) so it's optimized to reduce grain and noise in images, while maintaining the full dynamic range of the sensor.
Compatible with B4 Broadcast Lenses
The URSA Broadcast G2 features a B4 broadcast lens mount that includes optics specifically designed to match the camera's sensor. B4 lenses are fantastic because they are par-focal, so the image stays in focus as you zoom in and out, so you don't need to constantly chase focus as you shoot. You also get full electronic lens control to adjust focus, iris and zoom using the camera's controls, or remotely!
Use Common Media and File Formats! 
You can record in ProRes 422 HQ and ProRes 422 into QuickTime files. The new Blackmagic URSA Broadcast G2 model can even record into H.265 for incredibly small files at 60:1 to 285:1 compression ratios, in 10-bit broadcast quality. Plus you can record to Blackmagic RAW files, a revolutionary new format designed to capture and preserve the quality of the sensor data from the camera.
SUBSCRIBE TO OUR NEWSLETTER
Recieve our latest weekly releases, offers, guides and more.